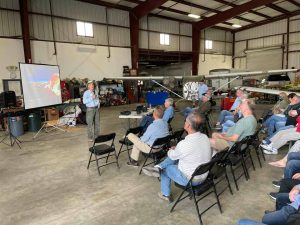 by SCAPA President Paul Marshall
SCAPA Members:
We had an excellent E16 Pilot Town Hall and barbecue yesterday afternoon (Sunday, Oct. 17. 2021). 46 people attended in person and another 3 participated over Zoom. Thanks to
Pat Belanger, Julie Belanger and Gene Kindred who provided the food,
Mark van Wyk who prepared the flyer, prepared the memorial table and presentation for Jim Petersen, and staffed the membership table,
Andy Lutz, Robert Blake, Brooks Evans, Paul Jacob, Dan Neal others who helped set up
Speakers Michael McDonald, Stephen McHenry, Dan Neal, Rich Constantine, Dr. Joe McMurray and I
and the many people who helped clean up when the night was over.
We started off the events with a tribute to Jim Petersen. There is a 100-picture memorial that we hope to have on the website soon. The presentation was too large to attach to an email. As we started the meeting, we heard the roar of many aircraft running up on the taxiway outside the San Martin Aviation hangar, so we walked out to see what was going on, and a 5-ship formation was completing its runup and taking the runway, as they departed the airport we went back in the hangar and several people spoke about Jim's life, the contributions he made to SCAPA and the community, his special role in founding the California DART Network, and all the fun and neat things he did that were out of the ordinary compared with other folks. As these presentations wound down, we hear the growing roar of the formation returning, and we all went outside to see a beautiful vic formation (flying V) fly overhead, turn around and come back to fly a missing man. In the missing man maneuver, one plane turned on its smoke and rose up out of the formation and turned to the west and the setting sun.
After the missing man formation flight was complete we ducked back into the hangar and got on to the business of the transition to unleaded fuel at San Martin and the threat of an end to 100LL gas sales on the airport. I delivered a presentation summarizing what our supervisors saw and heard Aug 17 when they voted to stop all 100LL sales at county airports Jan 1, 2022. And let's be glad they didn't take it as far at E16 as they did at KRHV – voting to ban SALE and USAGE of 100LL on Jan 1. Wow, either way is so severe! The conclusion of the presentation was that although it is desirable to switch over to unleaded fuel, and the pilots support doing that, the sensible way to do so is to get an extra fuel island and truck to facilitate the gradual changeover for all aircraft from leaded to unleaded – the planes who can use it now do so, and the others continue using 100LL until there is an unleaded fuel that they can use available at the airport. The fuel island can be repurposed to Jet A once the conversion is complete.The extra fuel truck can be purchased in used condition and resold when it is no longer needed to minimize the net investment required. The airport enterprise fund can do this and should do so without further delay. We recommended this to the county in February and still no action has taken place.
It is clear that we pilots do not have the wherewithal to make the persuasive case to the county to take this path. Although the county's lead study shows the desirability of changing to unleaded fuel, it doesn't at all make the case that there is a crisis that justifies the immediate grounding of 100LL based aircraft at Reid Hillview and the extra trips and extra lead emissions required for aircraft at E16 to go fly elsewhere to get their fuel. Attendees were in general agreement with this view, and read to proposed letters –  one to the FAA to ask for their assistance to prevent unjust discrimination against pilots who cannot use UL94, and another to the county to advise them of the better way to switch to unleaded fuels and to tell them that we are asking the FAA to guide the county on this matter. There were extra signature pages for people to add their names to the letters if they supported them. Approximately 33 people signed each letter. The letters have been distributed to the county and the FAA and we are hoping they will result in continued 100LL fuel availability at E16 come Jan 1, 2022. In any case, they are the first step in determining what else we need to do. Copies of the letter and the presentation are attached for your review.
Next up Michael McDonald from CAAPSO gave a nifty presentation about UL94, including naming all the tail numbers of all the planes which operated at E16 in July that can use this fuel. There are a number of them, and he presented the case of what a great move it is to move to unleaded fuel – lower maintenance costs in a variety of ways including only about a $0.20 per gallon fuel premium depending on where you fill up. He pointed out that Reid Hillview's volume alone has opened up the California market to UL94 – they are now shipping the gas out here by the rail car to keep up with demand. Enclosed is Michael's presentation.
Next up came Stephen McHenry of the San Martin Neighborhood Alliance who explained why they are working so hard to keep Reid Hillview open, and how they also want to see lead taken out of the fuel. It was interesting to note, however, that even though they support lead removal, that they feel the county consultants misrepresented the urgency of the situation by systematic manipulation of many of their graphs to make the problem appear worse than supported by the data. So, yes they want the lead out, but no you don't need to go to drastic measures like refusing to fuel aircraft that at this time can only use leaded fuel. Take a look at Stephen's enclosed presentation.
Next came Dan Neal of San Martin Aviation, who confirmed that the county has communicated to him that they want to pump only UL94 at the airport starting January 1, stopping all 100LL sales. He said they haven't reached agreement on this issue, but he is concerned by their stance.
Next up came Rich Constantine, Mayor of the City of Morgan Hill, who described his love of aviation as a pilot who flies out of Reid Hillview, and who showed a cute picture of his daughter sleeping in the back of the small plane he was flying. Rich said the City of Morgan Hill asked the County to provide an environmental impact report of closing Reid Hillview before they take any action to close it. He says it is important to him and the general community that aviation gets the lead out of gasoline. He loves to fly and he loves planes and the population doesn't really mind planes, but they don't want to hear that aviation will always be using leaded gasoline. Aviation needs to make progress converting from leaded to unleaded fuels so that it can continue to justify its presence. And no, it doesn't all have to happen at once like the county is trying to do.
We ended the meeting with a look forward to board elections coming up in November. I noted the great turnover we have had in the board the last couple of years, and how some of the people who have been serving for a long time are getting tired and have decided to move on. I thanked all the people who have served so faithfully and meritoriously. Joe McMurray came up to share some of his ideas about how SCAPA can improve its position in the community while offering a more enjoyable and engaging experience for airport pilots. He and Niki Britton pulled off the wonderful Food Truck Fly In we recently had. Joe has solid ideas on how to leverage this success and take a more community-engaged position moving forward. I am looking forward to him, his energy and vision driving SCAPA forward and bringing new pilots into the organization in the coming years. We'll vote on the board in November and the new board will take the reins Jan 1, 2022. Expect more election information in the coming weeks.
That's it for now, thank you
Paul Marshall, President, SCAPA