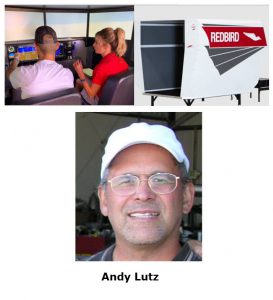 * HOME DESKTOP SIMULATOR – With the cost of computers, electronic components, and high-quality software coming down, it's possible to build a very capable simulator for use at home.
Andy Lutz will describe his home built simulator, and will offer tips on how to build your own simulator. Andy is a long-time SCAPA member; is an instrument-rated private pilot; and he keeps his Grumman American AA-5 Cheetah at San Martin Airport (E16).
* REDBIRD SIMULATOR – Tradewinds Aviation at E16 has installed a Redbird simulator. This simulator can be used for VFR and IFR training and currency. For example, as of late 2018, the requirements of 61.51(g) were changed so that an instructor is not required to be present in order to log time in an FAA-approved flight simulator or aviation training device for instrument currency. Tradewinds Aviation will have a representative present to discuss their FAA-approved Redbird flight simulator.
Tuesday, Sept. 14, 2021; Social: 6:30 p.m.; Club Meeting: 6:45 p.m.; Presentation: 7 p.m.
Join Zoom Meeting
https://us02web.zoom.us/j/83627572582
Meeting ID: 836 2757 2582